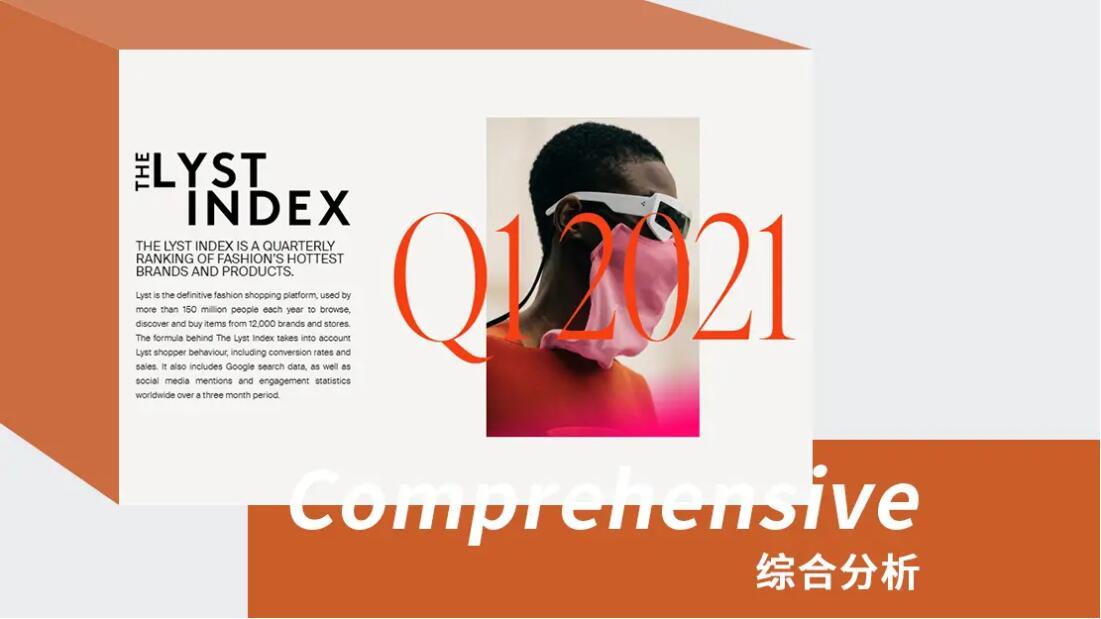 The Hottest Brands of Q1 2021
Gucci retains its position at the top of the list. The collaboration with Balenciaga attracted the public and also had an outstanding performance in the market. The fourth hottest brand of Q4 2020, Off-White comes to the tenth place in this quarter. The GG bomber jacket of Gucci X The North Face has become one of the most popular items among global women, and the price in the secondary market has reached as much as five times. Nike takes second place in Q1. Dior, which enters The Lyst Index for the first time this quarter, owns third place. PRADA, Louis Vuitton, Bottega Veneta, Saint Laurent and Off-White are the sixth to ninth.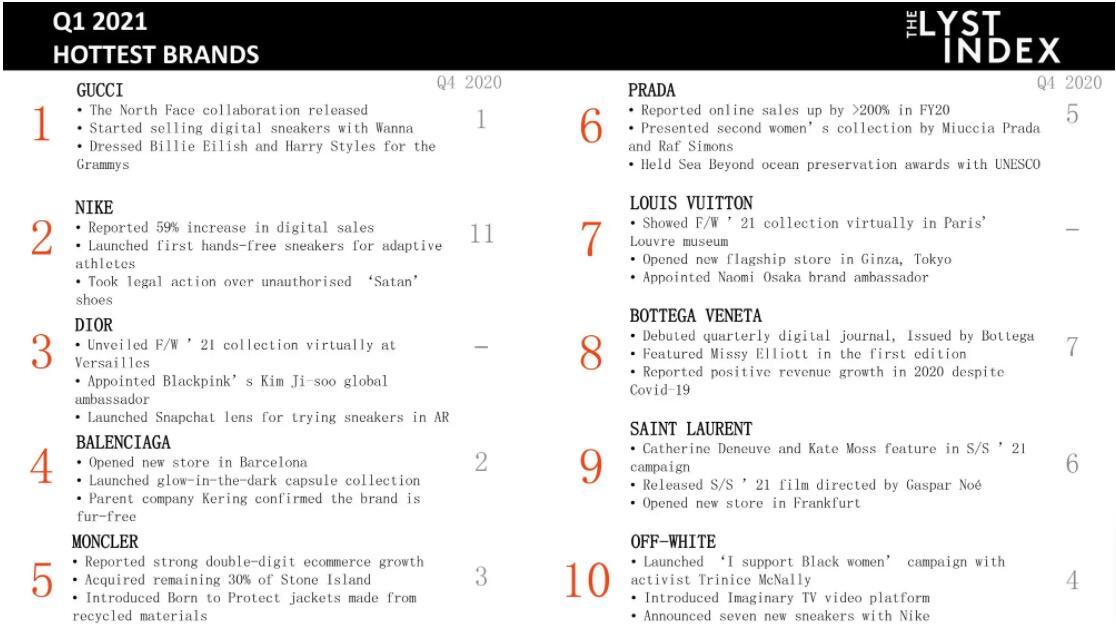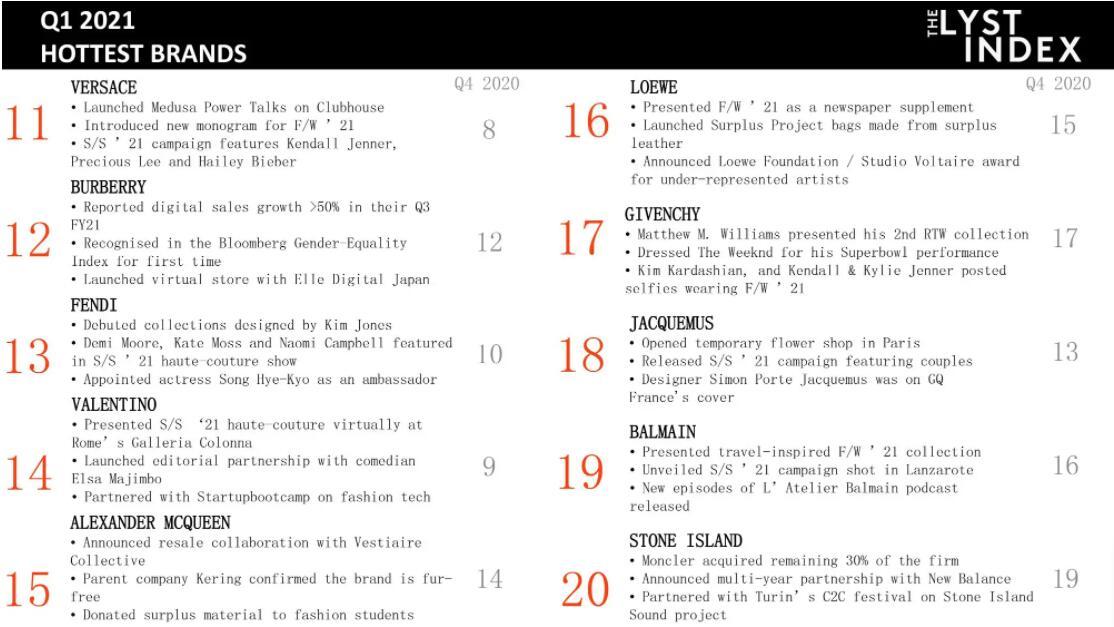 Hottest Women's Products
Every product on the women's list is representative, including collab products, pre-owned classic styles, classic re-edition, niche designer brand and creative products. Now there are signs that shoppers are eager to get out again, express themselves, and diversify away from sweats. Categories such as high heels and dresses are rising, with searches up 163% and 222% quarter-on-quarter. The Attico's Devon mules, worn by celebrities including Kylie Jenner and Hailey Bieber, are the 5th hottest women's product, while Nensi Dojaka's influencer-approved strappy dress takes 10th place. The hottest women's product in the world is the monogram jacket from The North Face x Gucci collection. Designer collaborations are nothing new, but this one stood apart. Combining Gucci's distinctive motif with The North Face's recent momentum resulted in fireworks: the jacket was all over Instagram and instantly sold-out. Demand for pre-owned Hermès bags was up by 430%, with the famous Kelly model particularly sought-after. Viewed as both an investment and a classic statement to elevate a variety of outfits, demonstrated by influencers including Rosie Huntington-Whiteley and Camille Charrière, the big-ticket bag is the 2nd hottest women's product. Pre-owned luxury watches were also in demand throughout the quarter, with searches rising by 47%. Notably, female shoppers were interested in larger sizes – traditionally marketed at men – and Rolex's 40mm Submariner takes 9th place in the women's products list.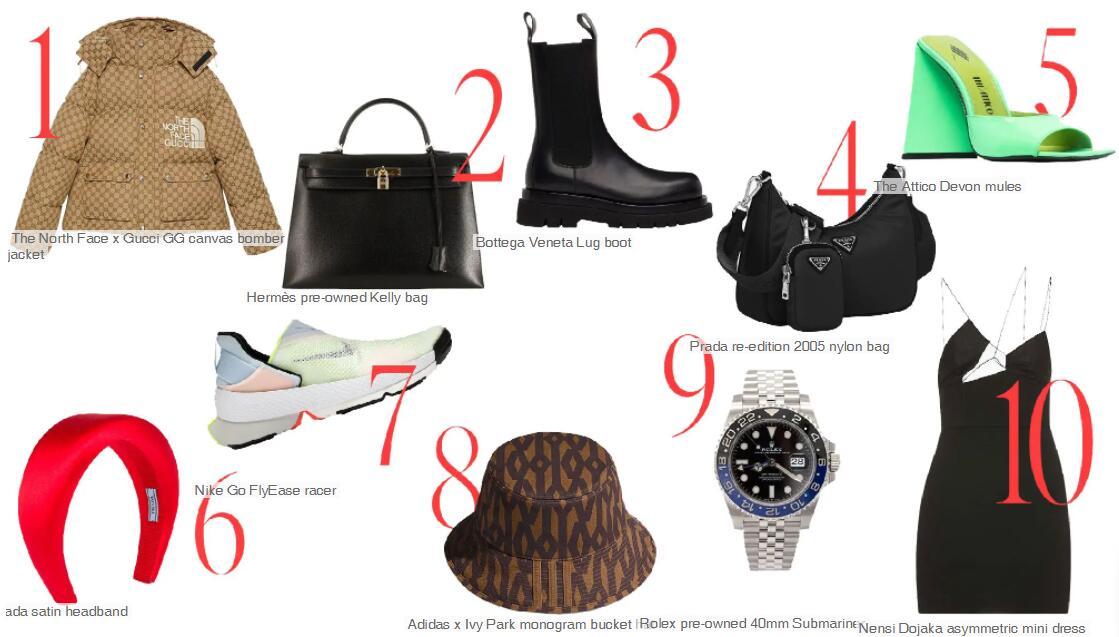 Hottest Men's Products
The hottest men's product in the world are the Adidas YEEZY 450 sneakers, a futuristic-looking design from Kanye West's line which dropped in early March. The new silhouette has been a long-time coming, with teaser prototype images shared as far back as 2018. The sneakers polarised opinions on social media, but searches for YEEZY spiked 121% around their launch, with re-sellers now asking at least double their original price. As the world watched the US presidential inauguration in January, senator Bernie Sanders' knitted mittens may have sparked thousands of memes but it was his Burton Edgecomb jacket, the 9th hottest men's product, which sold out across multiple retailers. Searches rose 96% for the brand overall. Sportswear and activewear continued to be in high demand, with the 'gorpcore' trend for outdoors gear felt particularly strongly in menswear. Arc'teryx's Beta AR jacket, Patagonia's zip-up fleece and Salomon's technical sneakers all made the list, as both city dwellers and those genuinely heading for the hills sought out hiking styles. Closing the men's hottest products list are Rick Owens' Geobasket sneakers, which were issued in 'pop pink' as part of the designer's S/S 21 collection. With Owens rarely using bright colour in his collections, and even less so on his cult high-top sneakers, the $659 footwear quickly sold out.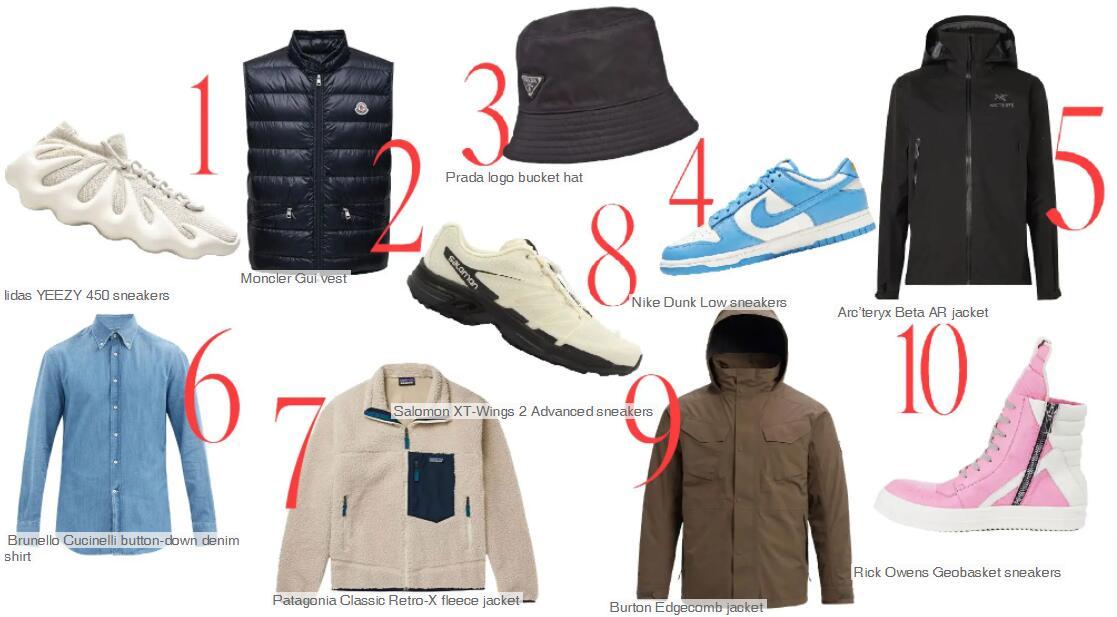 For a full report, pls visit https://www.popfashioninfo.com/details/report/t_report-id_10300-col_132/