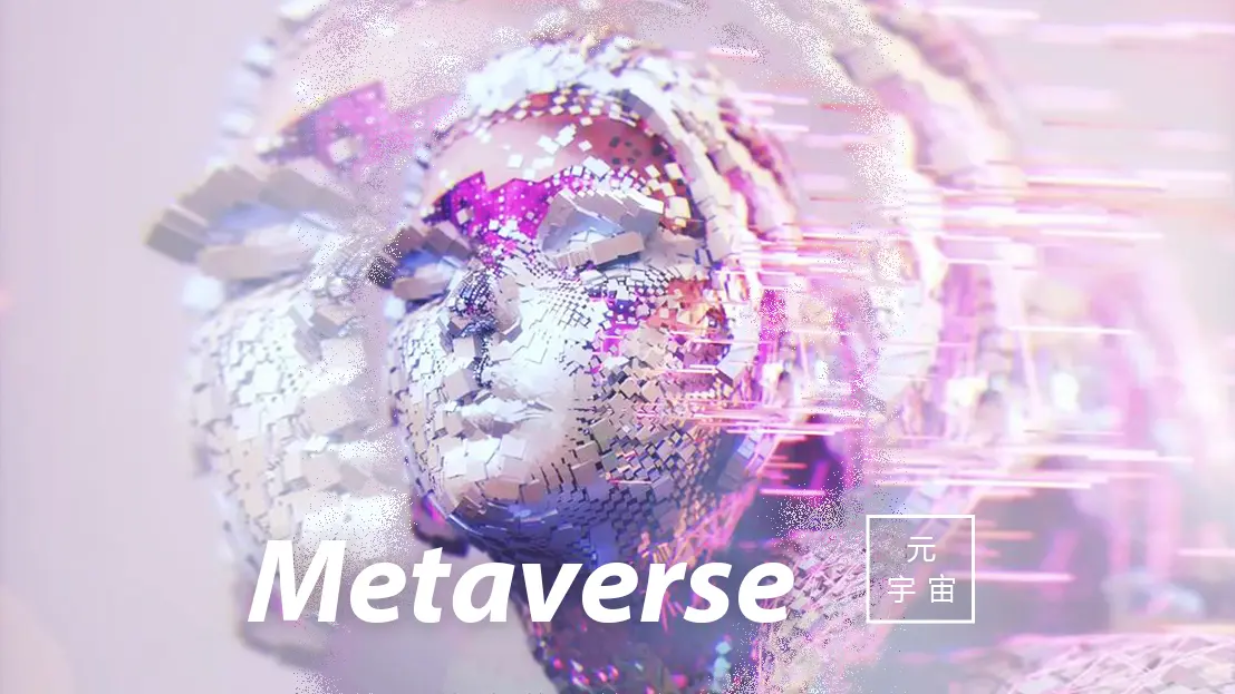 Metaverse, the ultimate ideology of internet, bridges the spirits and continues human's dimensional utopia from a diverse perspective. People desire for a sympathy mind from the others, but they can not run away from Tower of Babel's curse in the end. The contradictory builds an uncrossable wall between people, yet Metaverse provides us with a possibility to think on the opposite side and understand this uncontinuity from another visual dimension, which breaks the boundary between virtual fashion and the real one. Click here for more information about the theme Metaverse.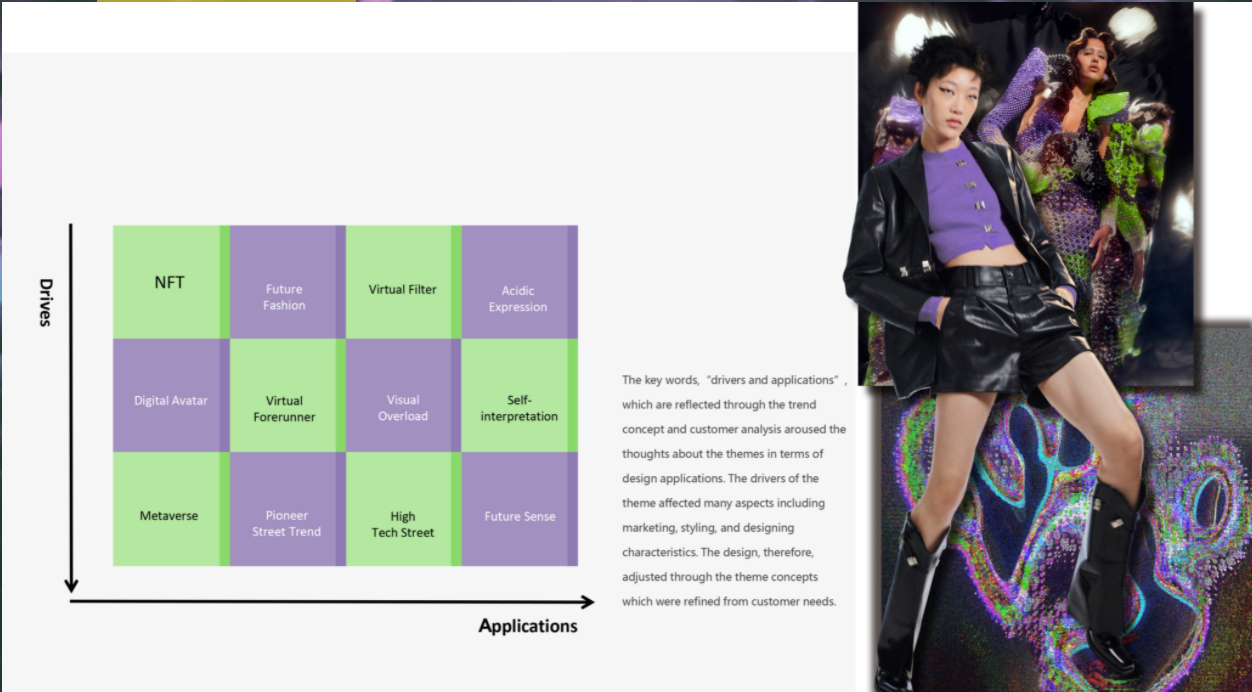 Metaverse is a society under constant evolutions. The rise of virtual digital clothing leads to the innovation and revolution of fabrics. The consumer groups of Metaverse are the Gen Z and Generation Alpha who love luxurious streetwear. Driven by the styles as virtual interaction, futuristic technology, NFT, avant-garde streetwear, and smart business, designers bring suiting, digital knits, PU leather, patented leather, gradient gloss, and 3D embellishments to the forefront. Focusing on visual effects and fun performance, the thematic fabrics of Metaverse are mainly applied to produce suits, dresses, knitted base layers, and outerwear.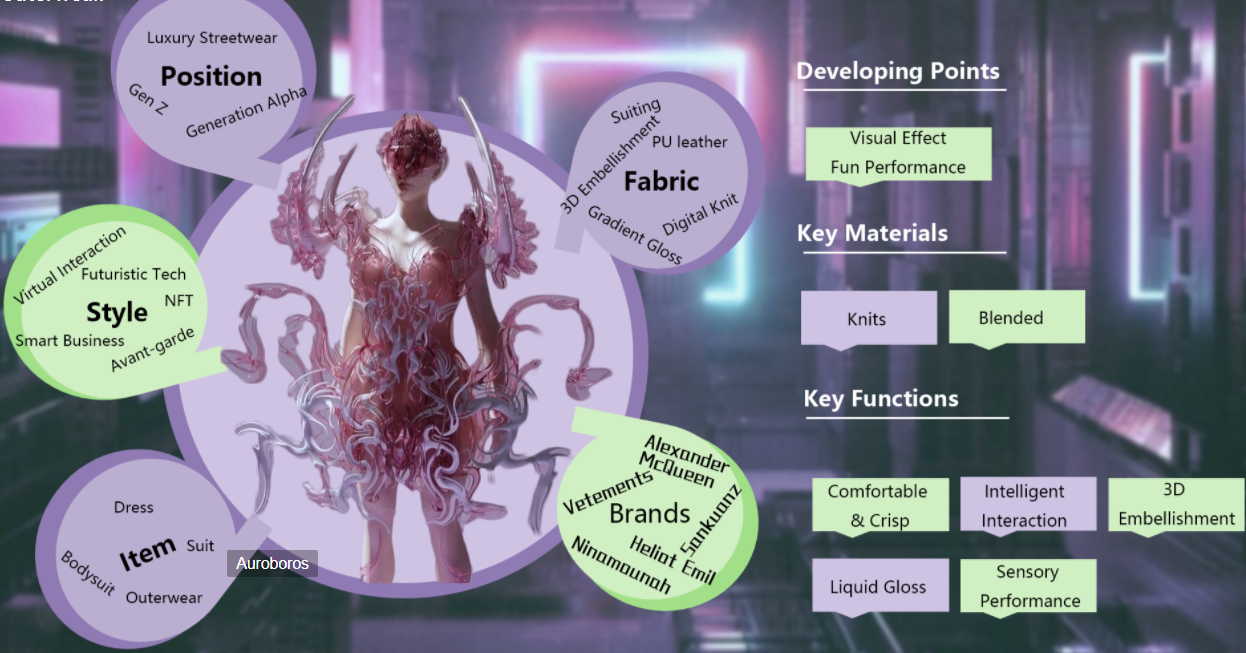 According to the backstage data of POP Fashion and the analysis of fabric trend, we summarize the proportions of S/S fabrics under the theme of Metaverse. Sci-fi urban suiting takes the highest proportion, which brings newness through yarn-dyed checks and jacquard textures. Digital interactive knit is made by full-fashioned warp knitting. Digital virtual leather opts patented leather and PU leather for a futuristic touch. The gradient glossy chemical fiber fabric can be coated to elevate the digital luster. The enriched surface textures of 3D avant-garde fabric are loved by pioneering fashionistas.
In the virtual world of Metaverse, people are shuffling between reality and virtuality. Under the pressure brought by busy urban life and work, sci-fi urban suiting represents the mental condition of workers and youths. Being the most classic suiting, TR twill provides comfortable tactility. Develop digital prints and jacquard patterns to create thematic fabrics for Metaverse. Yarn-dyed checked blends are joined by heterochromatic yarns to present entry-luxury qualities. Work on recyclable woolens and regenerated synthetic blends to produce fancy worsteds with basic structures.