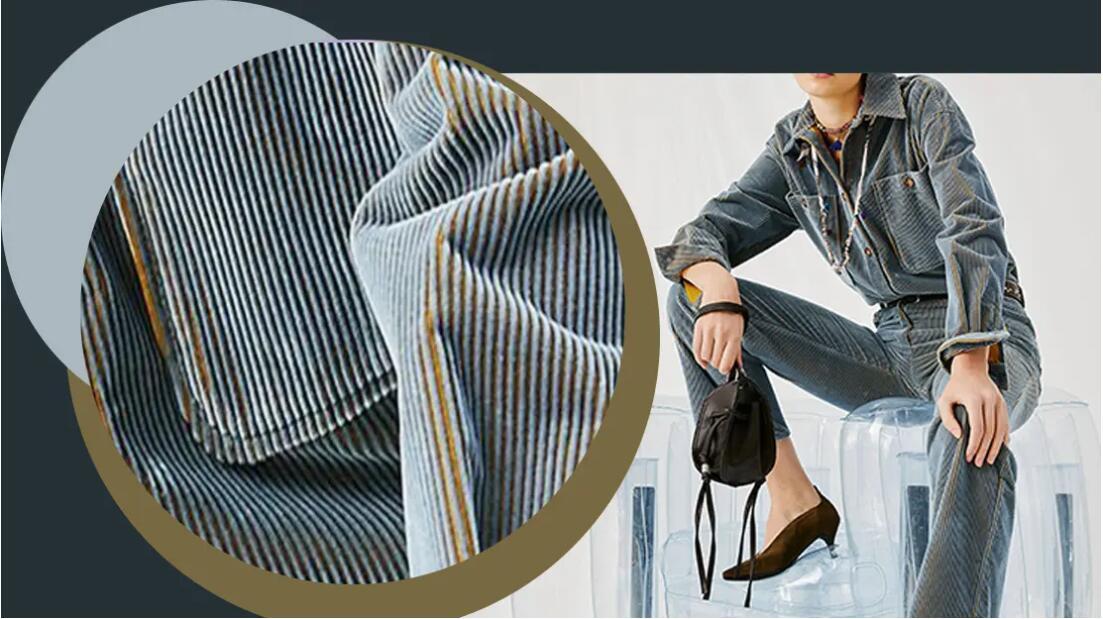 As the exclusive fabric for aristocracies in the 18th century, expensive corduroy was once called Corde du Roi(King's Stripe). Its solid surface, thermal performance, unique stripes and gorgeous textures are loved by many designers and brands in A/W. Transferred from woven to warp knitting, the striped texture if the biggest signature of corduroy's appearance. This report focuses on the development of warp-knitting cordu-
roy, jacquard corduroy, multi-color corduroy and lustrous corduroy.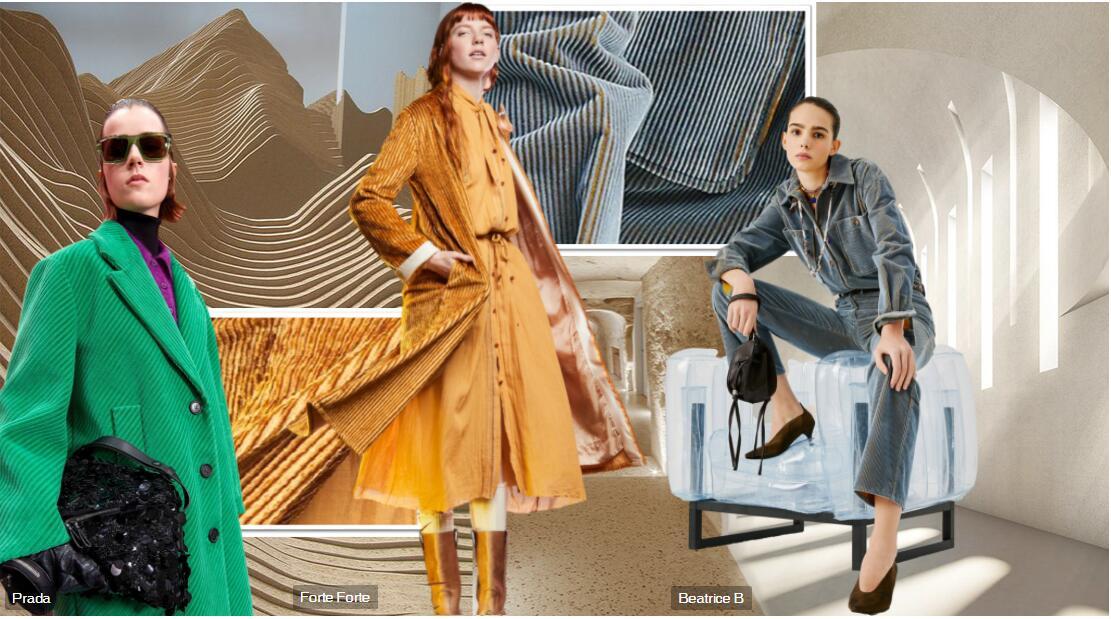 Developing Trend: From woven to warp knitting
Style Keyword: Casual loungewear, comfortable & minimalist, nostalgic & retro
Texture & Material: The main material of warp-knitting corduroy is the blending of polyester, nylon and acrylic fibers. Long viscose fiber also occupies a higher proportion. Coarse & fine wales and middle-width stripes are the main textures.
Warp-knitting corduroy is a main developing direction for corduroy in the future, which presents full lines, wear-resistant piles, solid quality, soft touch, and good thermal performance.
Recommended Styles: Suit, top, trousers, suit jacket, long overcoat, puffa jacket, etc.
Recommended Brands: Rogov, Moncler, Dolce&Gabbana, Brunello Cucinelli, Longchamp, Ardusse, etc.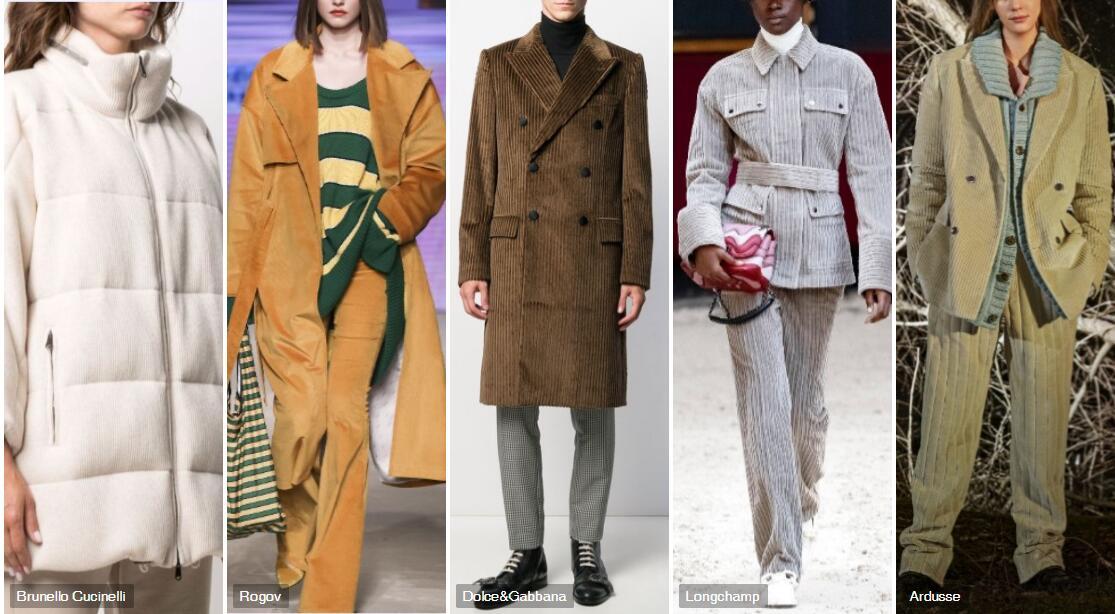 Developing Trend: From traditional corduroy structure to jacquard
Texture & Style: Cotton jacquard corduroy presents different patterns by jacquard machines. The pure colors, clear stripes and unique app-earances of jacquard corduroy are more good-looking, which is suitable for both nostalgic and urban commuting styles.
Weaving Process: The structural changes of corduroy are present by transferring the counts, density and proportion of yarns. A part of the
textile surface is raised to form different patterns.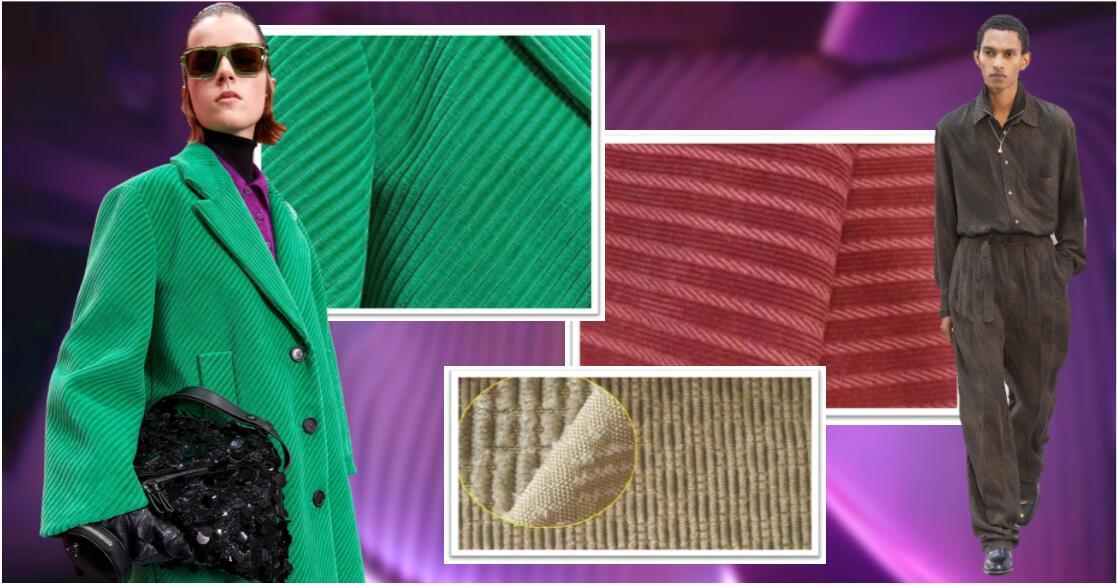 For a full report, pls visit https://www.popfashioninfo.com/details/report/t_report-id_11764-col_127/