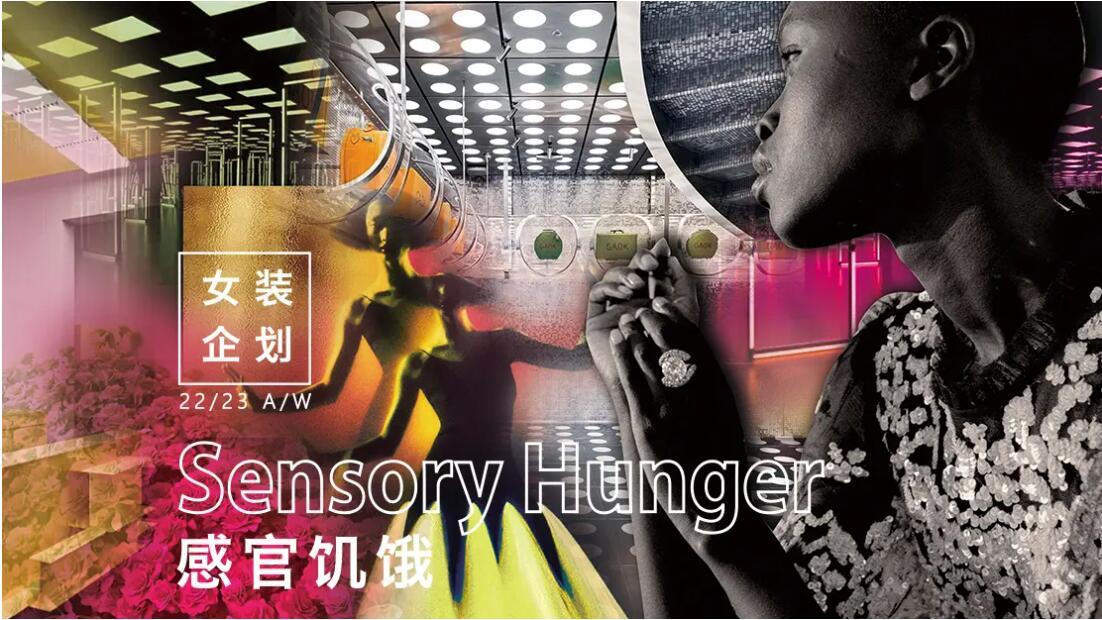 Awakened senses are the driving power to nourish the Sensory Hunger. The vision of network should be updated. Online art museum and screened news will take the place of the widespread Big Data information. Abstract vision and surreal Op Art cause psychological thinking and spatial extension. Fluorescent texture and the application of depth-of-field geometric patterns copy and transfer the sensory experiences. Micro touch is explored to bring consideration and meditation. Awakened senses underline the value of interaction and look for the meaning of tradition, memory and free identity. Ultimate joy and culture are recreated, and then integrated into the same time and space to approach the astonishing impact.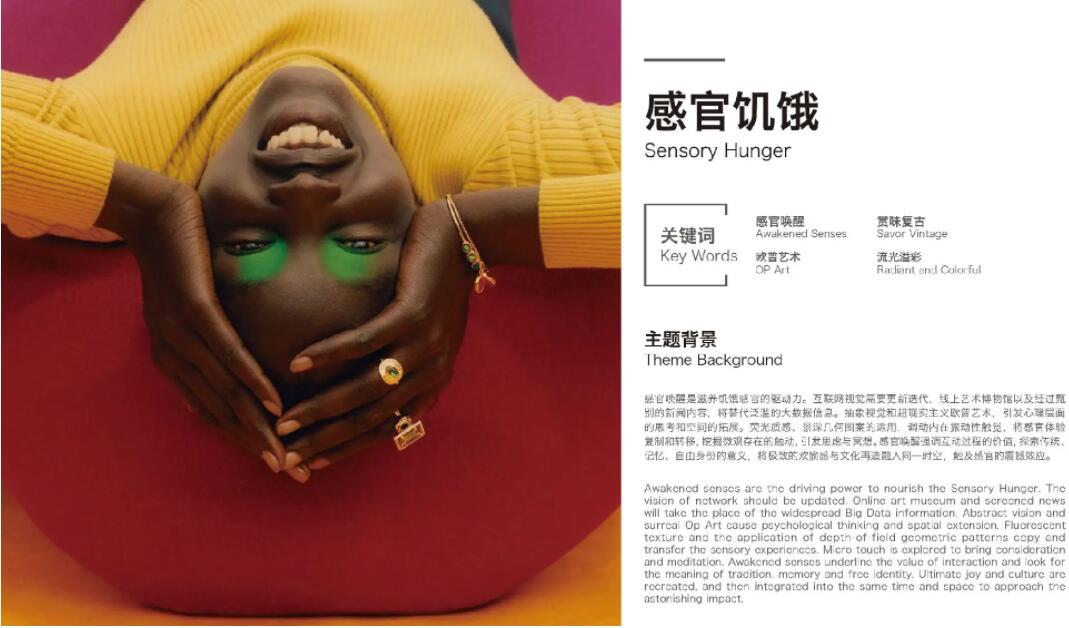 Trend Signal

1.The photographer Carlijn Jacobs's work The Animal Issue on Vogue Italia(January 2021) used a goblet with a golden fish in it to enlarge people's five features, which tried to explore the relationship between people and nature.

2.The Israeli designer and actor Dodo Bar Or founded the namesake brand in 2014. Inspired by the Mid-east culture, the designer combines tradition with modern to present the ethnic tribal totems by modern tailoring.

3.As the exclusive ornament designer of Mugler, the Paris jewelry artist Lorette Cole Duprat presented the work series 'Freed'. Acrylic was used as the material to create free-lance jewelry and enliven the apparel.

4. The works of James Turrell are the intimate games about light. He has created a series of light space, which can let us feel the endlessly enlarged colors. He is an artist, and also an optical researcher.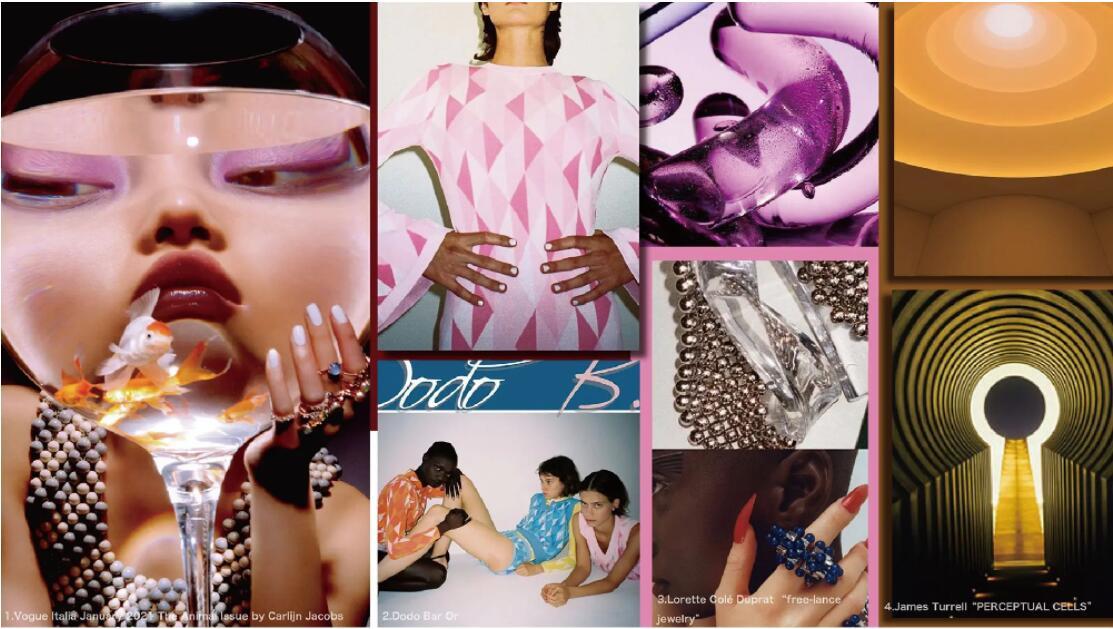 Consumers are defined as the Sensory Intensifier under the theme of Sensory Hunger, which expresses the importance of senses. Sensory Intensifier praises the aesthetics of order and wants to find breakthrough in it. Partial individual is enlarged to reveal the unnatural yet real expression. Sensory Intensifier prefers designs of transboundary senses among the fields of fashion, music, movie, art and architecture to convey the demand for customization. Having experienced the era of overloaded information, they do not want to be depressive and passive any more. Ultimate joy can better satisfy the sensory requirements.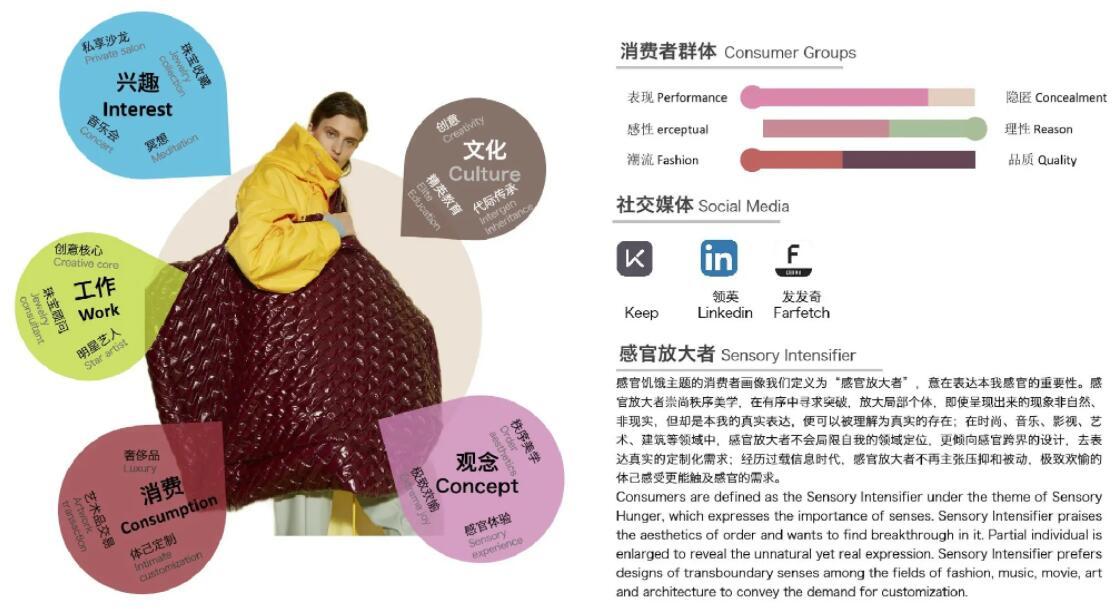 The Prada A/W 2021 womenswear collection launched by Miuccia Prada and Raf Simons got inspiration from the updating and changing of concepts. Different themes and purposes are integrated to reflect the essence of human. This collection is trying to find a balance between minimalism and complexity, elegancy and functionality, restraint and release.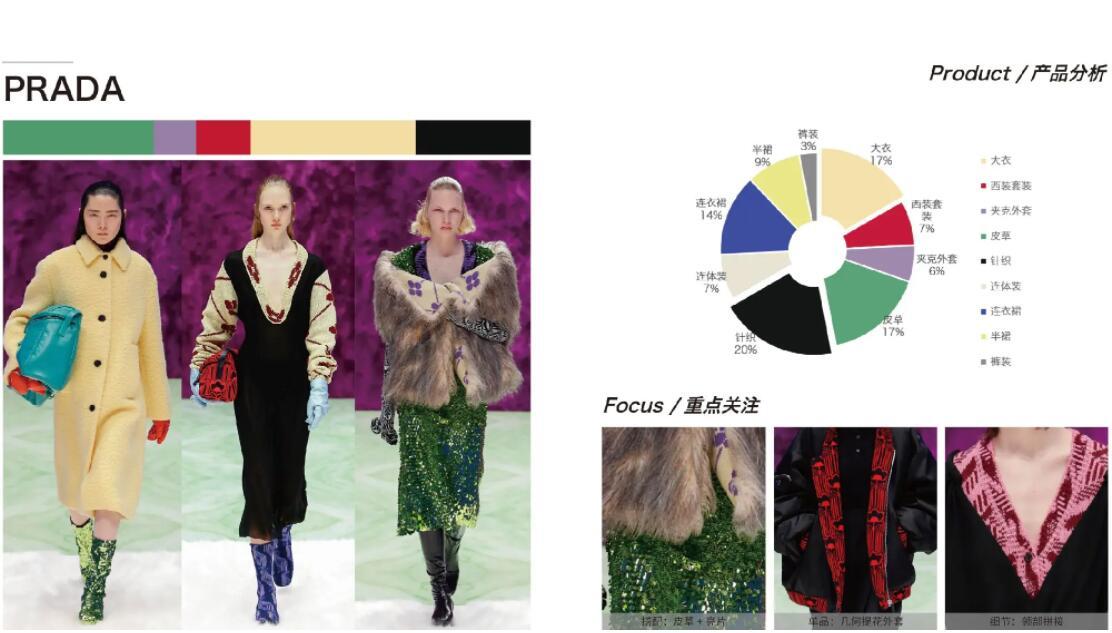 For a full report, pls visit https://www.popfashioninfo.com/details/report/t_report-id_11545-col_21/