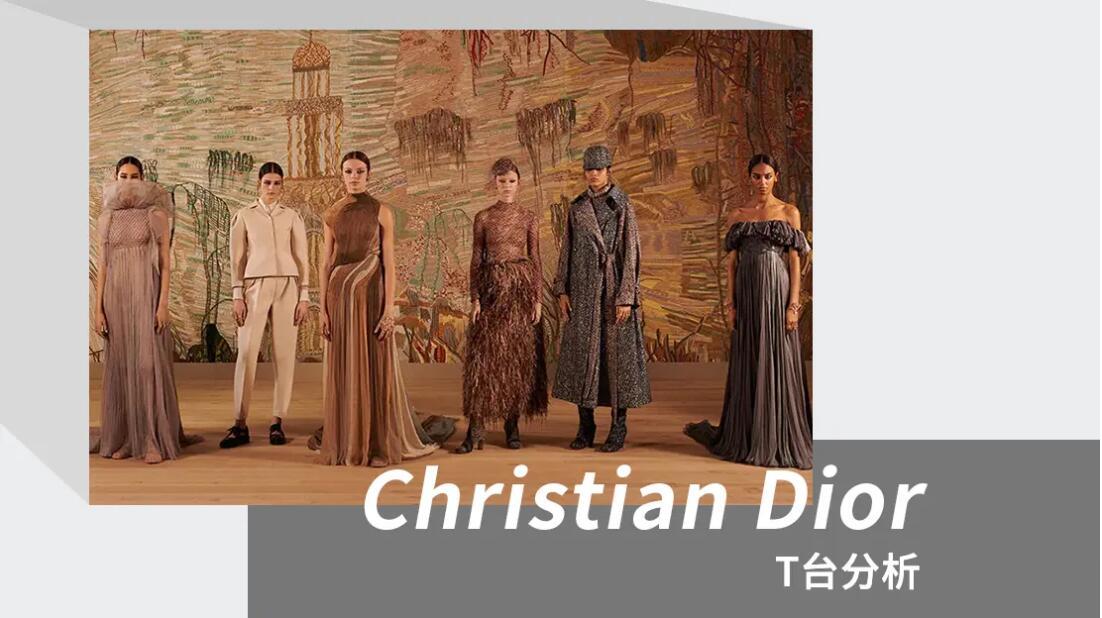 Dior A/W 21/22 Couture Collection was released on July 5 in Paris, which was presented by the creative director Maria Grazia Chiuri and French artist Eva Jospin. The work Chambre de Soie, created by French artist Eva Jospin, provides a backdrop for the show, with lifesize embroideries displayed on the walls recalling the Indian-inspired Salle aux Broderies in the Colonna Palace in Rome. Forest, vine, rock and waterfall create imaginative and twisted scenes. The combination of lively embroidery and haute couture gown is shown on this amazing runway. The materiality of fabric becomes form, while the subversive language of embroidery is expressed in a project that becomes a performance. An energy resembling poetic pleasure, at the intersection of style, movement and attitude. Through textile research, a series of pieces, featuring an assortment of checks, tweeds, textures and different dimensions in black and white. This creation serves as a precious décor for presenting dresses with magnificent pleats, trains, and hand-woven chains that compose patterns on the body, in colors dear to Monsieur Dior, such as powder blue or nude. The singular context reinterprets the meaning of embroidery, and salutes to the exquisite craftsmanship and couture spirit of Dior.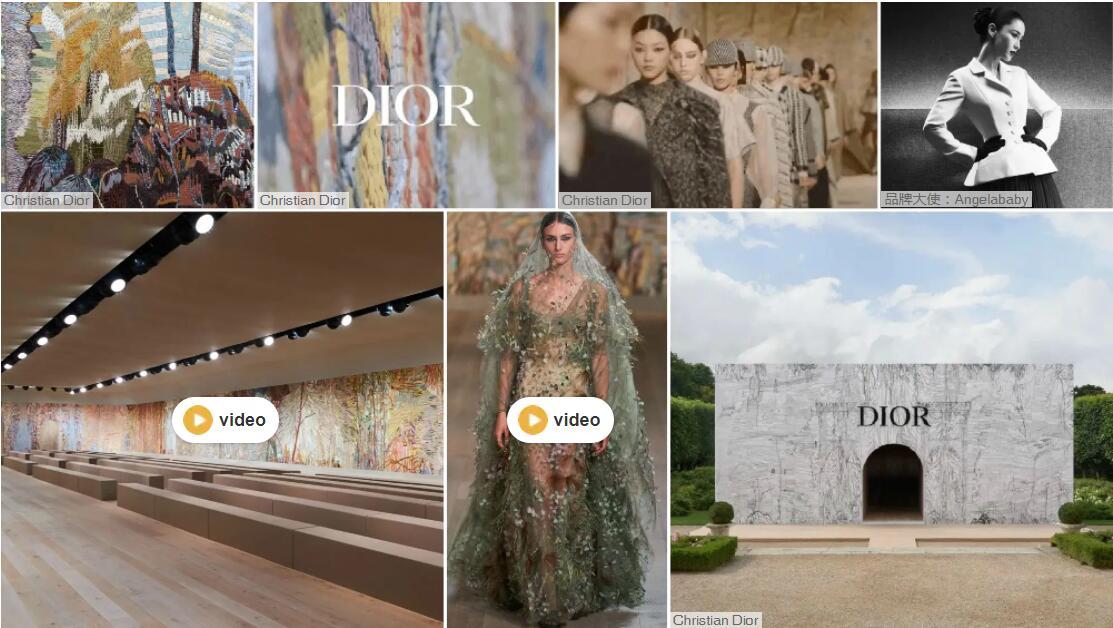 Couture dress focuses on the visual effect of upper body. Hand-woven chain structure is premium and sexy. Wide poet sleeve and round neckline of foot-length dress are combined with waisted ties to accentuate the poetry.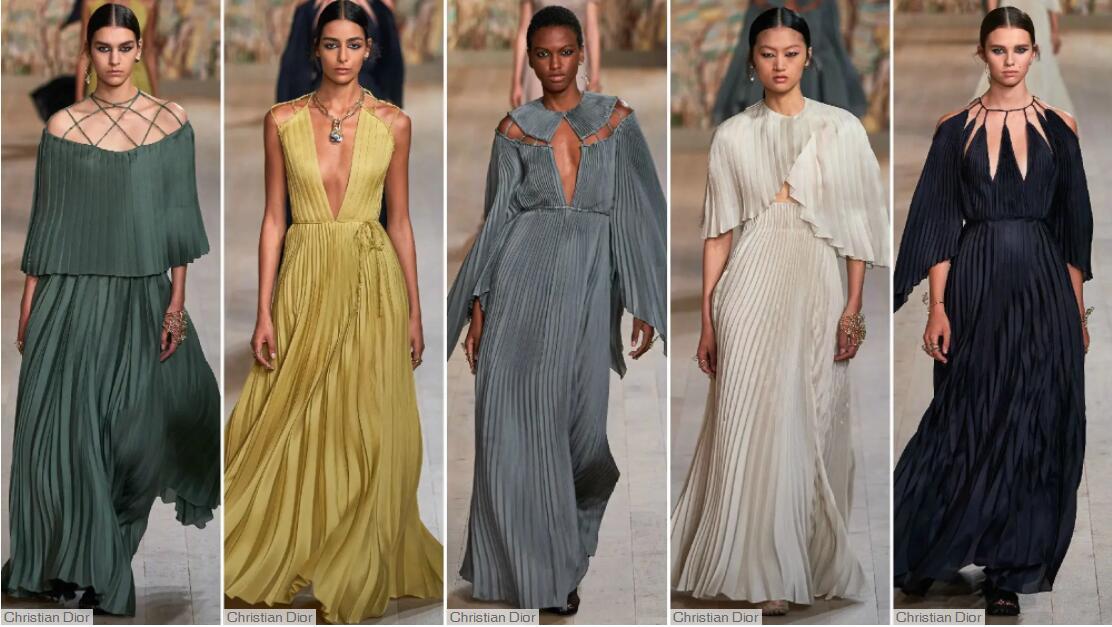 The contrasting delicacy of the nymph-like flou dresses in the collection seemed to hark back to that personal Italianate aspect of Chiuri's romanticism. Semi-transparent, pleated, and delicately crimped, some had been entirely hand-braided from strands of silk; the corsetry "woven like baskets."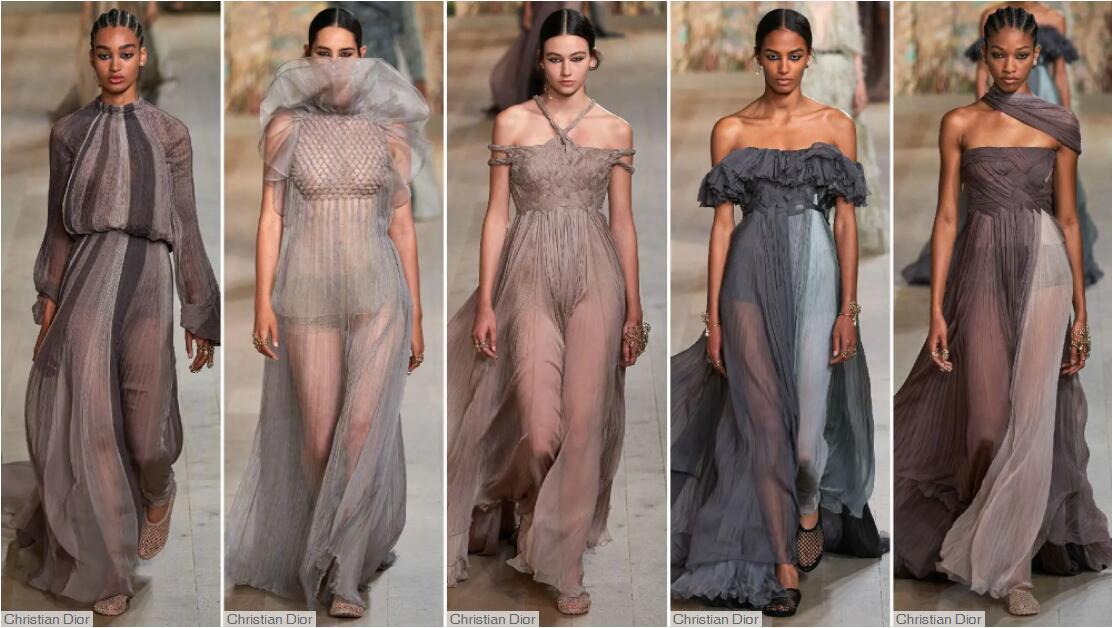 Couture gauze down dress is understated and luxurious. The semi-transparent visual effect is graceful and draped. Hand-woven chains reveal the haute couture spirit. Monsieur Dior's favourite powder blue and nude are used to show elegancy and demureness.
For a full report, pls visit https://www.popfashioninfo.com/details/report/t_report-id_10745-col_30/