The Chinese Valentine's Day marketing war launched in the name of the "romantic economy" once again allowed countless luxury brands to fully fire at this node, it is starting at least half a year in advance.
In a luxury retail environment full of challenges and uncertainties, consumer contact points extend from offline to online, and omni-channel layout has become the general trend of sustainable development of luxury brands in the future. Digitalization is no longer an option but a must for luxury brands.

For luxury brands that are relatively cautious in choosing marketing channels, appropriate channels are not only for sales, but also for grasping brand value.
According to public data, as early as July, before offline stores began to fully create the Qixi atmosphere, thousands of new Qixi products and customized models were released on Tmall Luxury Products and started pre-sales, of which more than 500 were customized for Qixi. Special items such as new Tanabata products, Chinese limited editions, and celebrity models from the world's top luxury group brands such as Richemont Group, Kering Group, LVMH Group, etc., break through the geographical restrictions of offline stores, and pass Tmall's official flagship store and celebrity The live broadcast recommendation of expert anchors, buyer show, and interactive Q&A are presented in front of a large number of consumers in a multi-dimensional and three-dimensional manner.
Gucci, Saint Laurent, Lanvin, Balmain, Jimmy Choo and other brands participated in the Tanabata marketing on Tmall luxury products for the first time, bringing Gucci Padlock series heart apple pattern handbags, YSL x New Era joint baseball cap, Lanvin men's profile heart-shaped printed T-shirt , Balmain early autumn knitted jacket, Jimmy Choo Baily 85 crystal embellished sheepskin high heels and other first shipments. Prada's first live broadcast with Li Jiaqi on Chinese Valentine's Day, and the ladies' Re-Edition recycled nylon bags quickly sold out.
Also participating in the Tmall luxury product Tanabata event for the first time are the famous luxury jewelry brands Van Cleef & Arpels, Boucheron, Pomellato, Graff, etc. that have opened stores on Tmall this year. Graff Tanabata launched the world's limited edition butterfly phantom rose gold diamond necklace, which is limited to 50 pieces worldwide; Chopard launched the Tanabata Limited Happy Diamonds series on Tmall for the first time, with a global limited edition of 200 pieces registered in the luxury live room.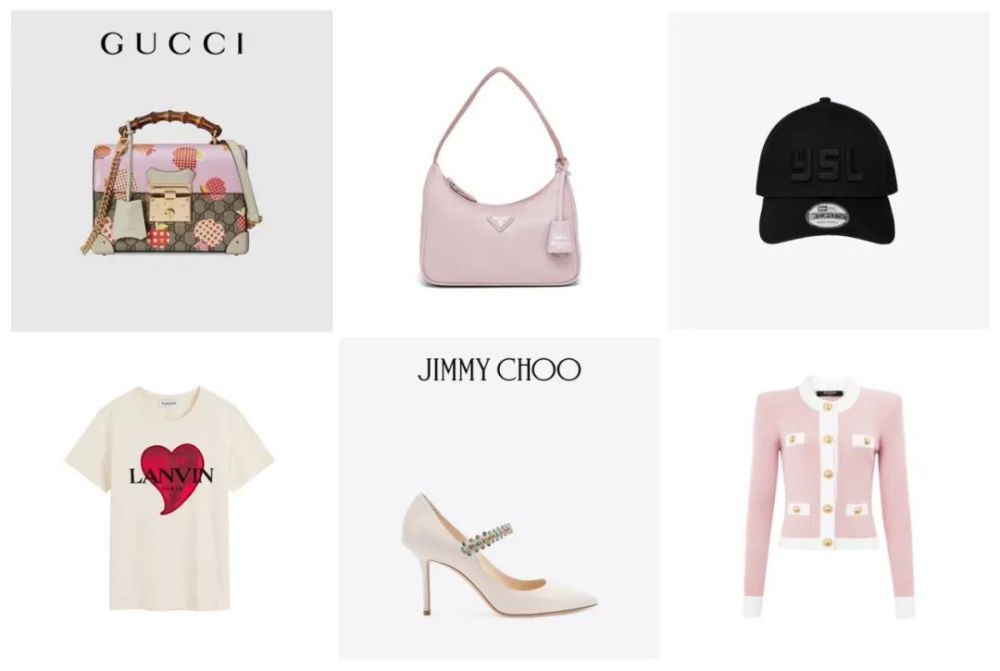 Top left: Gucci Padlock series heart apple pattern handbag;
Middle top: Prada Re-Edition recycled nylon bag;
Top right: YSL x New Era joint baseball cap;
Bottom left: Lanvin men's profile heart-shaped print T-shirt;
Middle bottom: Jimmy Choo Baily 85 crystal embellished sheepskin high heels;
Bottom right: Balmain early autumn knitted jacket
Digital technological innovation is taking place. The global luxury goods industry is also closely following the trend of technology and constantly rewriting the competitive landscape of the market. In Tmall luxury products, digital services such as AR try-on, 3D interaction, and voice message cards have been used by more and more luxury goods in daily life.
Cartier High Jewelry 3D display new features, has attracted more than 1,000 consumers to use Tmall applets to appreciate the details of limited products; using electronic voice card services, consumers can also digitally transmit voice blessings to each other. Gucci also put the jewelry category on Tmall's official flagship store for the first time on Chinese Valentine's Day, and simultaneously launched the hand AR virtual trial on Tmall. Consumers can easily try on classic double G bracelets, Icon series gem rings and other products on Tmall. , Can also customize gift cards. Bottega Veneta launched a small gift selection program to accurately meet consumer needs.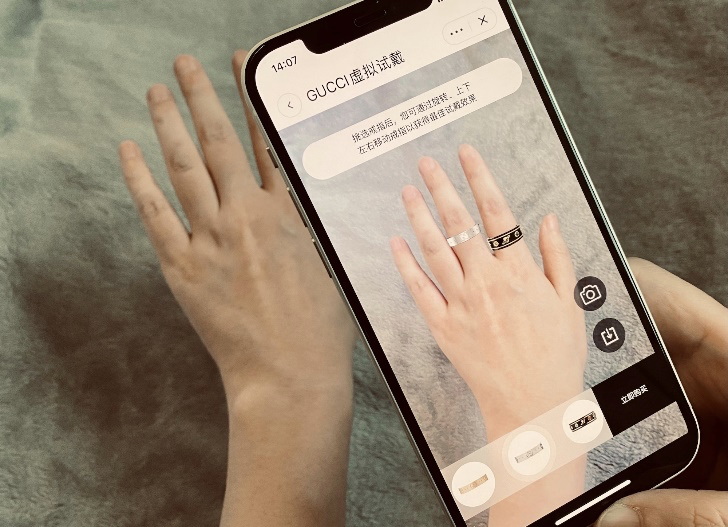 GUCCI Gucci Tanabata puts jewelry categories on Tmall for the first time, and launches AR virtual try-on
It is reported that, driven by the Qixi Festival, the overall sales of luxury products on Tmall in August exceeded 200% year-on-year, with the largest proportion of luggage and jewelry, and the growth rate of jewelry was much higher than that of the market.
Behind the hot sales, Tmall's significance to luxury brands has long been more than a simple "shopping mall." Digitization has broken the boundaries of the offline experience of luxury goods. The big data backed by the platform enables thousands of people to recommend it, which not only improves marketing efficiency, but also better implements marketing ideas, helping to enhance brand power in an all-round way. Tmall Luxury Products launched the theme marketing campaign of "Unseven Meetings", aiming to resonate with global luxury brands through a series of online gameplay around people, goods and fields, and realize full-link and all-round digitalization for consumption. The audience brings new expectations and surprises.
Consumers' consumer demand for luxury goods is diverse and constantly changing. Compared with offline, Tmall's luxury online platform is more flexible. We hope to help consumers through digital tools and platform insights. Luxury brands better understand and grasp changes in consumer demand and consumption trends, and have more confidence in choosing communication modes and making business decisions." Tmall Luxury Products General Manager Janet Wang said, "Consumers are There is a clear preference for special items such as exclusive launches, limited editions, and topical models. At the same time, classic models are still very popular and are the mainstream choice for gift giving. This year we have also seen that the cross-category trend of luxury brands has become more prominent, such as many brands Its main category is luggage, and it has also begun to sell jewelry. Some jewelry brands are also selling luggage and perfume."
The hot online sales of Qixi Festival reflect the continuous improvement of online consumption power. Tmall luxury products data show that male consumers on Valentine's Day are more active, and consumers' online purchase prices for luxury goods are getting higher and higher. The number of men buying bags over 6000 yuan has increased rapidly. Consumers are younger than last year. The number of people buying luggage and bags over 6000 yuan in tier-6 cities is rapidly increasing.
Wang Weizhen said that the epidemic is repeated in stages, and consumers' pursuit of a better life is constantly changing. Everyone will pay more attention to green, health, nature, and charity. As the younger generation of China gradually increases their sense of identity with traditional Chinese culture, they are increasingly The more attention is paid to the traditional Chinese seasonal solar terms and festivals, the Qixi Festival is given the meaning of emotional transmission, expressing sweetness and expectation. We have also seen that some Chinese style items are selling very well. Everyone prays in their own way and conveys good wishes and emotion.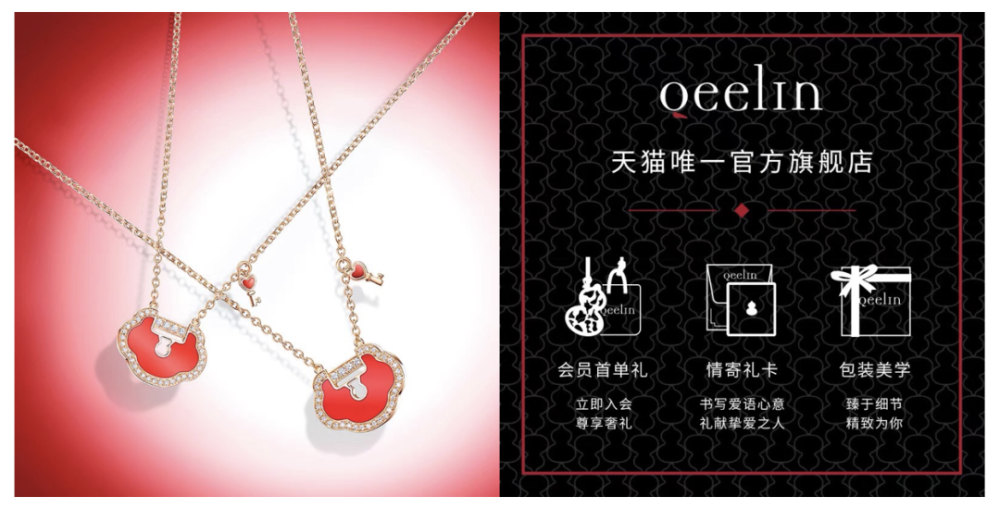 Qeelin launches the new QiXi Little Red Lock necklace, which is sold in the Weiya live broadcast room
During the Chinese Valentine's Day, Burberry launched an interactive mini-game on the second floor of the Tmall flagship store on Tmall's flagship store to inspire consumers to participate in the idiom filling game, and establish a relationship with consumers through idioms, which are rich in traditional Chinese cultural meanings. Deep connection.
Young trends, hotspots, and interests will change rapidly with the evolution of the times. Traffic, circle, technology, and the imagination of using digitalization to break the offline boundary of luxury goods will not only enhance marketing conversion, but also match the brand value. User focus. Behind the popularity of Tmall's luxury products by brands, it is a powerful digital empire that supports it.
For hundreds of years, luxury goods have been inherited with their long history, professional craftsmanship, precious and rare materials, and exclusive and unique experience for high-net-worth individuals, bringing buyers a complete overall experience because of its unique brand Identity and genes gain higher brand loyalty.
Service experience management significantly affects the added value of the brand. Offline, this unique experience is reflected in store location and decoration, customized services, special events, and after-sales maintenance. In 2021, Tmall Luxury has accelerated the industry breakthrough in the field of luxury e-commerce service experience, and officially launched the "Worry-Free Purchase of Luxury Products" service, through exclusive packaging, video customer service consultants, after-sales service upturn, installment interest-free, and purchase Five distinctive services, including rights and interests, create an online and offline luxury consumer experience that empathizes with each other.
Wang Weizhen introduced that the value of luxury goods is more than just a relatively high price. Whether it is a gift to others or a reward for oneself, we hope that consumers can fully experience the good experience of owning luxury goods in Tmall Luxury, and convey the goodness completely. Mind and emotion. Compared with offline, Tmall's luxury consumption experience is not compromised and even better. Tmall luxury products have always provided 100% authentic products, seven days no reason to return, free delivery, fast refunds, and 7 days price guarantee. Five major upgrade services for worry-free purchases of luxury products are launched this time, and strive to bring consumers The best shopping experience.
It is understood that over 40 luxury brands such as Gucci, Cartier, Valentino, Vacheron Constantin, IWC, Longines, etc. have provided exclusive packaging services on Tmall Luxury Products on Qixi Festival, covering more than 10,000 luxury products as a whole. The sense of unpacking experience brought by the exquisite packaging has also inspired consumers to share the enthusiasm of the buyer show in the comment area, allowing UGC's word of mouth to effectively feed back product sales.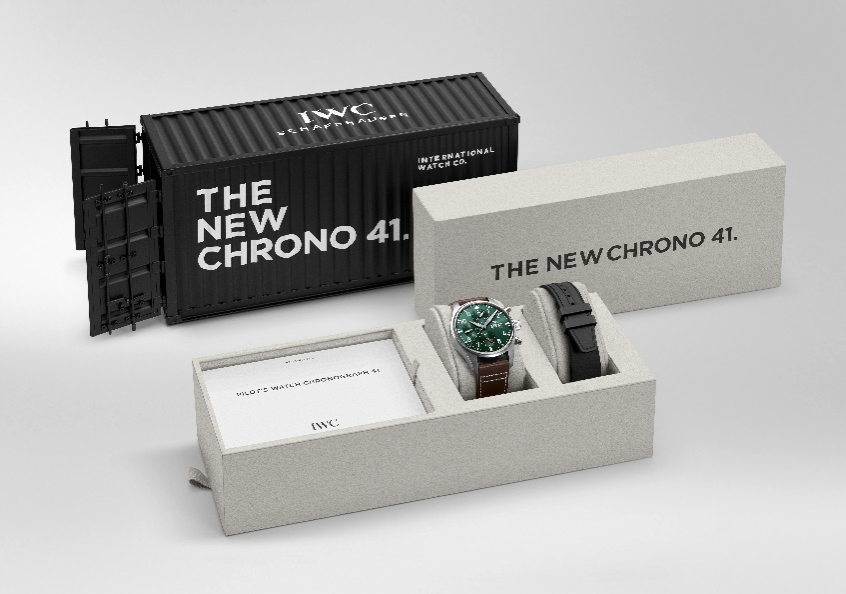 IWC launches online exclusive gift box on Tmall Luxury
The first luxury "video customer service" was officially launched on Qixi Festival, and for the first time luxury consumers have an exclusive "face-to-face" shopping guide online. Before the Chinese Valentine's Day, Richemont's luxury watch brand Vacheron Constantin took the lead in launching an exclusive video customer service, inviting 10 guests to experience the experience. In the live room comparable to the offline VIP room, the video customer service consultant explained to consumers the new products of Qixi. Watch knowledge, try-on and try-on display, so that the brand can communicate with online consumers in a more intimate and younger way. The Vacheron Constantin series of Chinese limited edition watches worth more than 200,000 yuan were sold in the live broadcast room.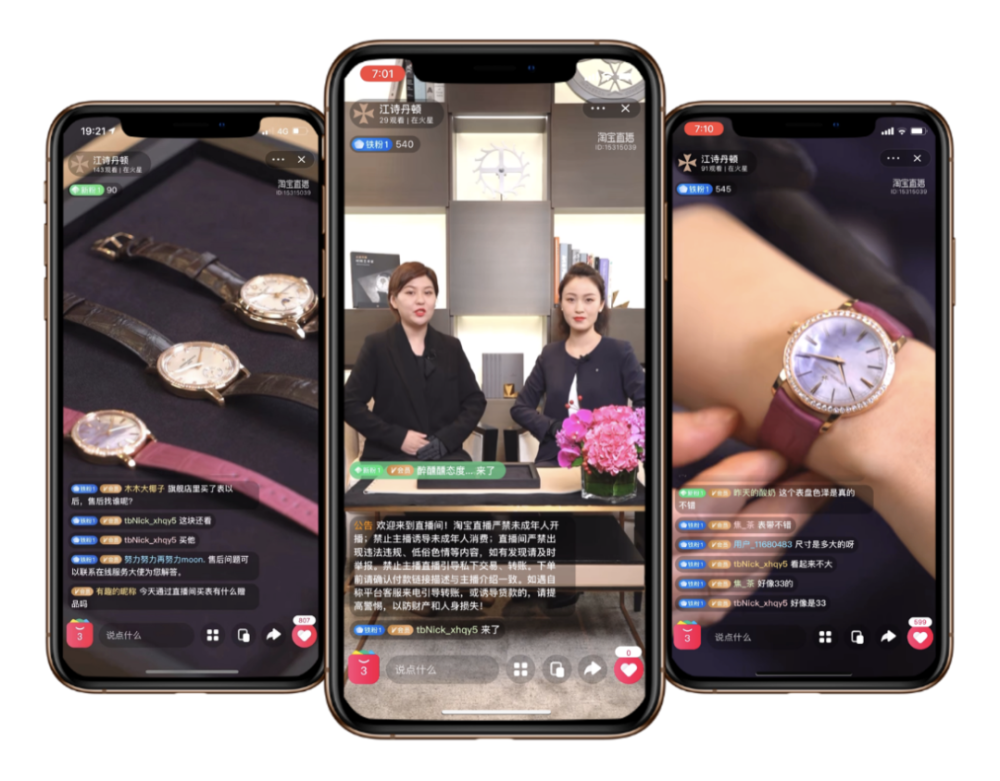 Vacheron Constantin launches video customer service on Tmall Luxury Platform
In the past, the cleaning, maintenance, customization, and repair of luxury goods could only be done through offline stores, which was time-consuming and labor-intensive. Tmall luxury products help brands open up online full-link after-sales service. Brands can provide free after-sales service or rights in the Tmall flagship store, and provide services by their own offline repair centers or brand authorized service providers. For consumers, luxury after-sales services, such as cleaning, maintenance, and repair, which could only be done through offline stores in the past, can now be experienced in Tmall flagship stores. As long as the "after-sales service" is initiated with one click, there will be express delivery, which is simple and quick to save time. At the same time, you can also track the progress of service performance online in real time and keep track of the service status. In Tmall luxury products, the jewelry and watch brand Chopard can provide 24 months of free warranty and cleaning and maintenance services. Gucci launched belt punching services before the Chinese Valentine's Day. Women's clothing brand Carven and footwear brand Ruco Line provide free alterations clothing and washing shoes.
For luxury brands, new products are synchronized with offline luxury counters. The rights and services of brands offline are also shared on Tmall. All Richemont luxury brands including Cartier are available on Tmall Luxury. The product enjoys 8 years of maintenance.
The online platform of Tmall luxury goods is extremely flexible and can pay close attention to consumers and maintain continuous communication with them. In a sense, the service quality is effectively covered or even better than traditional offline channels, and it is more advanced and leading. This kind of digitalization The extension ability of the company has been affirmed by many luxury brands. In April this year, a consumer ordered a 97.5w high-priced Vacheron Constantin watch at the "Watches & Wonders Tmall Cloud Watch Exhibition". In these months, this consumer also passed the Tmall flagship The store continues to receive service and care from the brand.
The discussion on Metaverse has brought a shock wave to the Internet world in 2021, and aroused close attention of the fashion luxury industry. A romantic dream that spans the physical world and the virtual world is also slowly opening up on Tmall luxury products.
A well-known UP owner of a station once analyzed that for young people immersed in the two-dimensional environment, the two-dimensional is already life; the post-80s who are gradually entering middle age are the first batch of Internet citizens, familiar with the pulse of the Internet, see As animation grows up, the second dimension is no longer a symbol of younger age, and is forming mainstream culture from subcultural groups. The Taobao Life virtual 3D image task dressing game, which has been online for more than 2 years, has over 10 million daily active users and over 100 million cumulative users, has a commercial value that cannot be underestimated.
On the Qixi Festival, Tmall Luxury once again joined hands with Taobao Life to bring a show of exclusive luxury products for the Qixi Festival. From August 4th to 7th, when users searched Taobao and met in seven, they can enter the event page and choose Tmall luxury products Ralph Lauren, Valentino, Versace and other 8 major brands to offer new clothing for virtual characters in Taobao's life. Match. After the matching is over, generate photos for sharing, and you will have the opportunity to unlock a variety of luxury gifts. While satisfying the two-dimensional dreams of young people, it also allows luxury brands to obtain more diversified exposure and interaction opportunities, forming a marketing fission trend, and gaining more recognition from potential audiences at the value level.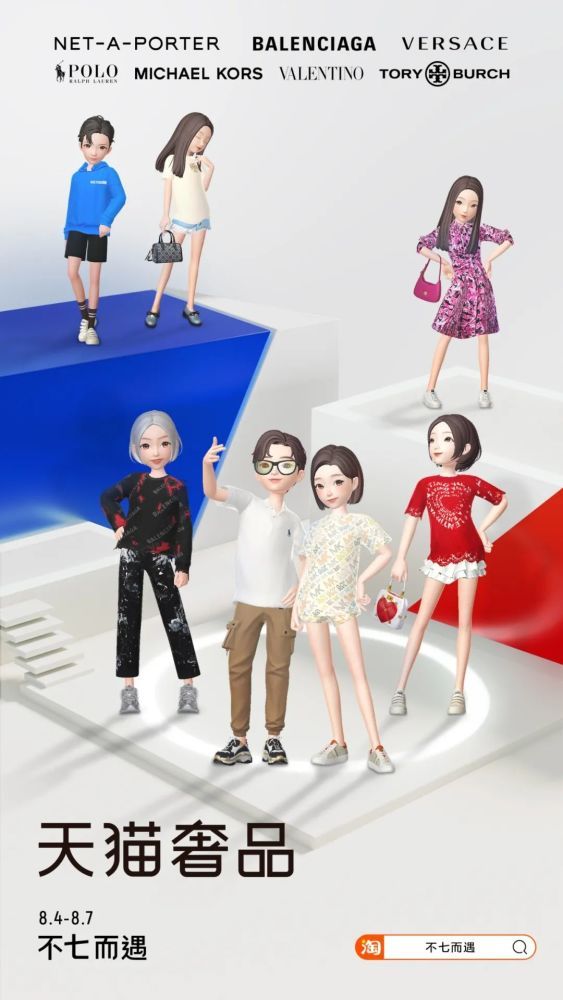 It is reported that during the 4th event, the site exposure exceeded 100 million, and more than 7.5 million players interacted with luxury brands in depth, tried on nearly 6 million costumes virtually, generated 2 million creative selfies, and purchased them from the game store. The 16 brand-new custom-made garments of 8 major brands are permanently retained in Taobao Life, and the participating brands have added more than 5 million consumer assets on average. The Tmall luxury wardrobe in the Taobao Life game has 83 pieces of clothing, luggage and props from top brands, and nearly 8 million people visited during the event.
Tmall's efficient conversion is an accurate insight into the emotional needs of users in the dividend-rich traffic platform. Relying on digital marketing to emphasize interaction, interactive and participatory advertising can deepen the impact of products and brands on users and stimulate consumer desires. The digital full-link marketing system of Tmall luxury products is of great benchmarking significance, even Affect the future marketing trend of the entire luxury industry. Based on the mobile shopping and Tmall luxury channel positions, while innovating gameplay, Tmall luxury products are also constantly seeking the integration of multi-channel content marketing.
During the Qixi Festival, Tmall Luxury and Li Jiaqi, Zhu Jingxi, Huang Chutong, Luo Zhenni, and Zhao Jiankang will bring a romantic short drama, showing the richness of Tmall's luxury products through three emotional stories of uneven encounters innovative Qixi Festival limited edition, exclusive packaging gift box experience, immersive video customer service consultant. The short film gives the Chinese Valentine's Day festival infinite inclusiveness: for the lover, for myself, for friendship, for the present, and for romance. Tmall Luxury Goods connects the scene experience with the emotional bond, making luxury online shopping more graceful and warm. This cooperation with the head KOL has effectively extended the bond between the anchor and the fans to the brand itself.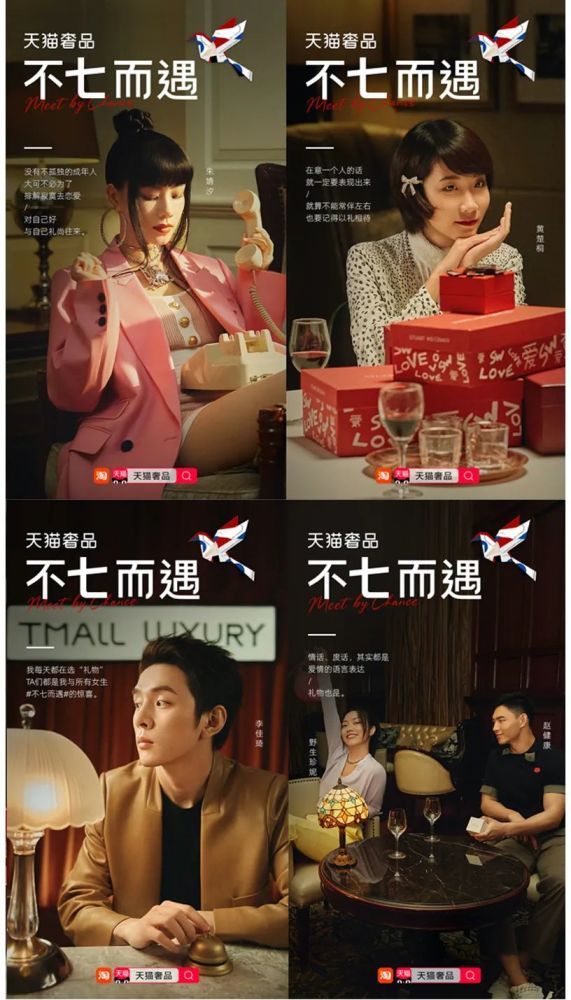 The so-called full-link, all-round digital marketing is not mechanically typing the codes of 0 and 1 on the keyboard. From new to after-sales, Tmall Luxury and global luxury brands are carefully scrutinizing every marketing link to make luxury goods From being hot to being warm, the only way to put yourself in a brand is to think more. Tmall of Qixi Festival has also made itself a platform for romance and love, and it also allows us to see the full possibilities of creating unparalleled offline experiences through online channels, attracting more brands and consumers to embrace Tmall luxury Product.
View more Chinese fashion market report, pls visit https://www.popfashioninfo.com/analysis/market/