Perhaps many elderly people gradually lose their enthusiasm for dressing because of their age, and feel that fashion is exclusive to young people. In fact, it is not. Fashion has never been about age. When a woman gets older, she doesn't have to wear grandma's clothes. This is reflected in many fashionable grandma.
For example, the fashionable grandmother-Lyn Slater, who is 68 years old, has never stopped chasing fashion. The combination of her outstanding taste and personality make her stand out among the amateurs and become a highly sought-after fashion icon. . What about gray hair and wrinkles? The 68-year-old grandma proved that fashion has nothing to do with age. Let's take a look!
1. How to wear is more important than style
Many elderly people's impressions of fashion may still remain in various exaggerated designs and exotic clothes, or high-profile color matching, which is more or less one-sided.
It is undeniable that the design is more eye-catching visually, but it is not easy to control. Taking advantage of the basic products of agelessness, it can further show the fashion temperament of ordinary elderly people.
Take Lyn Slater as an example. In its outfits, there are various silhouettes with simple tailoring and crisp version, as well as single products with a sense of design. There are also single products with a simple, casual and comfortable ageless sense, but whether it is What kind of single product can shine with its unique brilliance under its excellent collocation, which perfectly proves that the way of wearing is more important than the style.
Take the common sweaters in autumn for example. Compared with small black pants, she prefers to wear blue jeans and roll up the cuffs to reveal her wrists. The basic models can also wear personality and chic!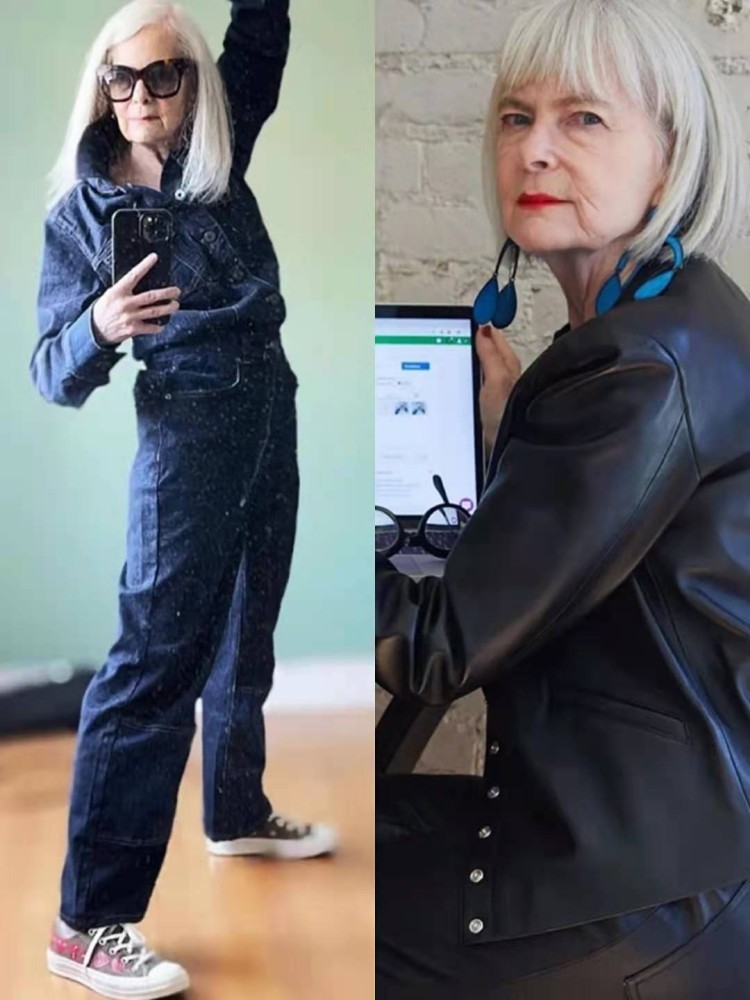 In addition to T-shirts and sweaters, denim single products or leather jackets that are mainly slick and neat are also very popular in their outfits, such as denim jackets, denim suits or black short leather jackets.
Wearing a complete set in autumn is effortless and stylish. If you are worried about dullness, you can wear a pair of canvas shoes like her to double the effect of age reduction.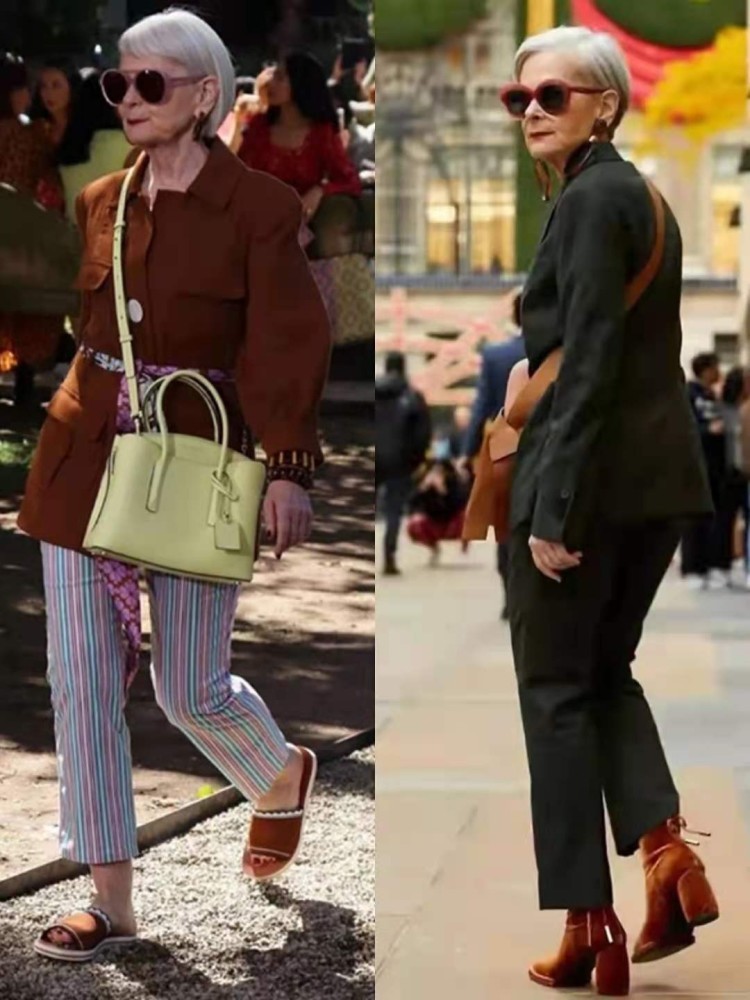 The dressing method we are talking about not only refers to the dressing method of a single product, or the collocation between a single product and a single product, but also refers to the treatment of various details. In many cases, the old fashioned clothes of the elderly are due to the lack of bright spots in the style.
Therefore, when wearing suits, workwear jackets, leather jackets or windbreakers, don't forget to use silk scarves, bags, sunglasses or accessories to enhance the highlights.
2. Enhance the strengths and avoid weaknesses, enlarge the shining points
After many people get older, although they have no advantage in skin, figure or height, they can use clothing to improve their strengths and avoid weaknesses, and create unique and personalized street looks by magnifying the shining points.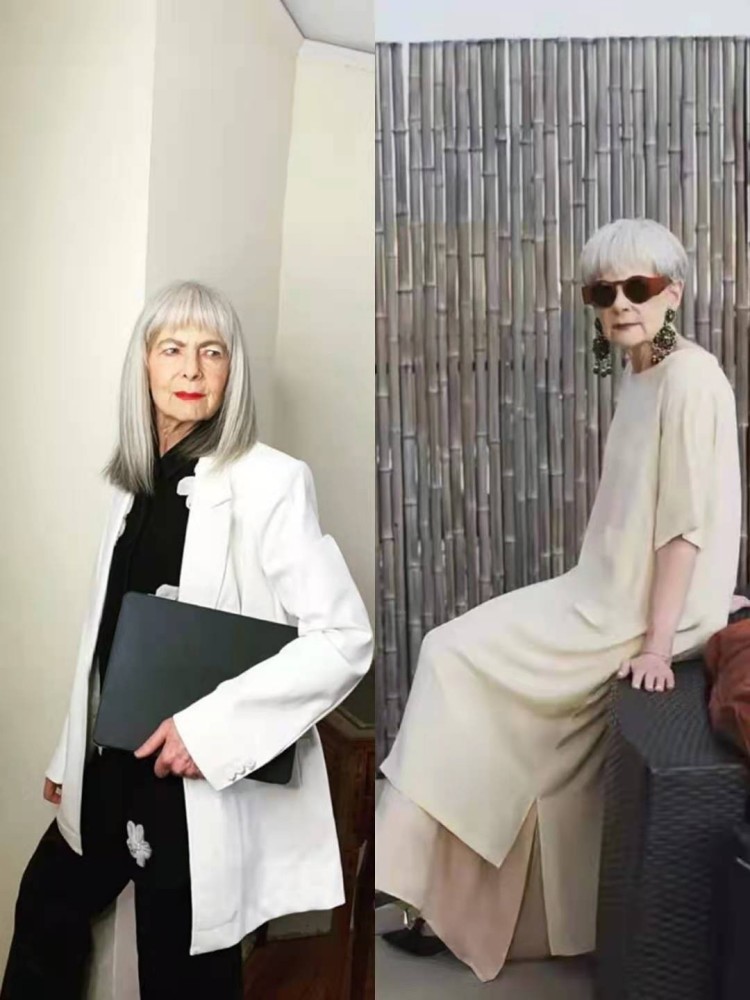 Lyn Slater, like many 60- and 70-year-olds, has gray hair, wrinkled hands on her face, and dry skin, but for her, these are never all decisions to dress, but signs of natural aging. It is the embodiment of experience and calm temperament.
In terms of dressing, she is more willing to use a variety of line items or silhouette items to highlight her high-level aura, rather than over-modifying the signs of aging, which also makes her dress very natural.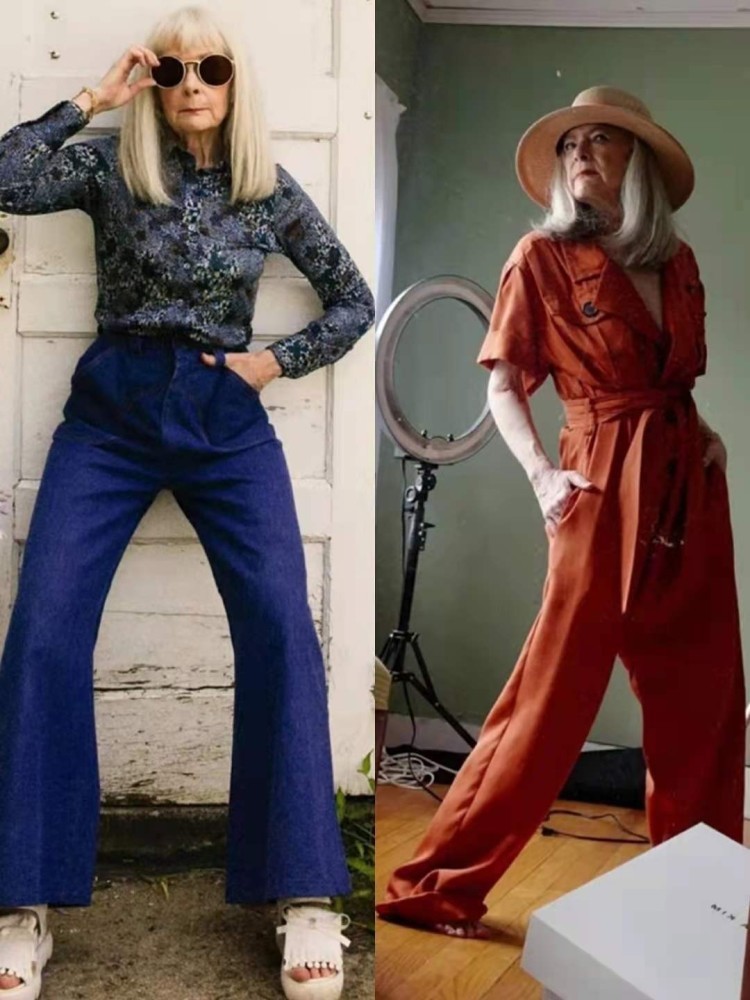 Who said that short elderly people have no sense of existence when they dress? Although there is no tall body, Lyn Slater is good at improving the proportion of the body by raising the waistline position, so that he has the same advanced aura as a model.
For example, use a variety of high-waist trousers or waist belts to stretch the proportion of the legs in the whole body, and emphasize the sassy and stylish dressing style.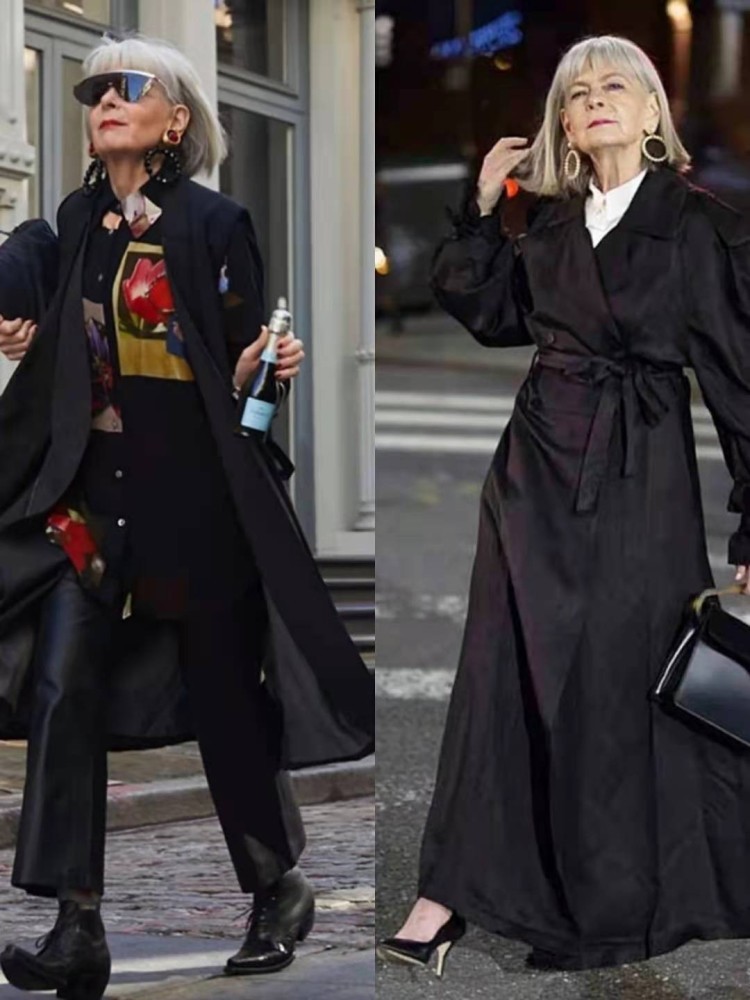 Long coats are easy to overwhelm and are rejected by many short elderly people. However, in Lyn Slater's wear, the long trench coat is not overweight and bloated, but instead creates a beautiful and modern autumn look. .
In addition to using the waistband to raise the waistline, she will also use the printed lining to move the center of gravity up, matching with leather pants of the same color to easily lead the fashion trend.
3. Dressing should be simple and bright
Many elderly people can't wear fashion sense, and they only give people a sense of old-fashioned or over-strength. The reason is that there is no balance between simplicity and fashion.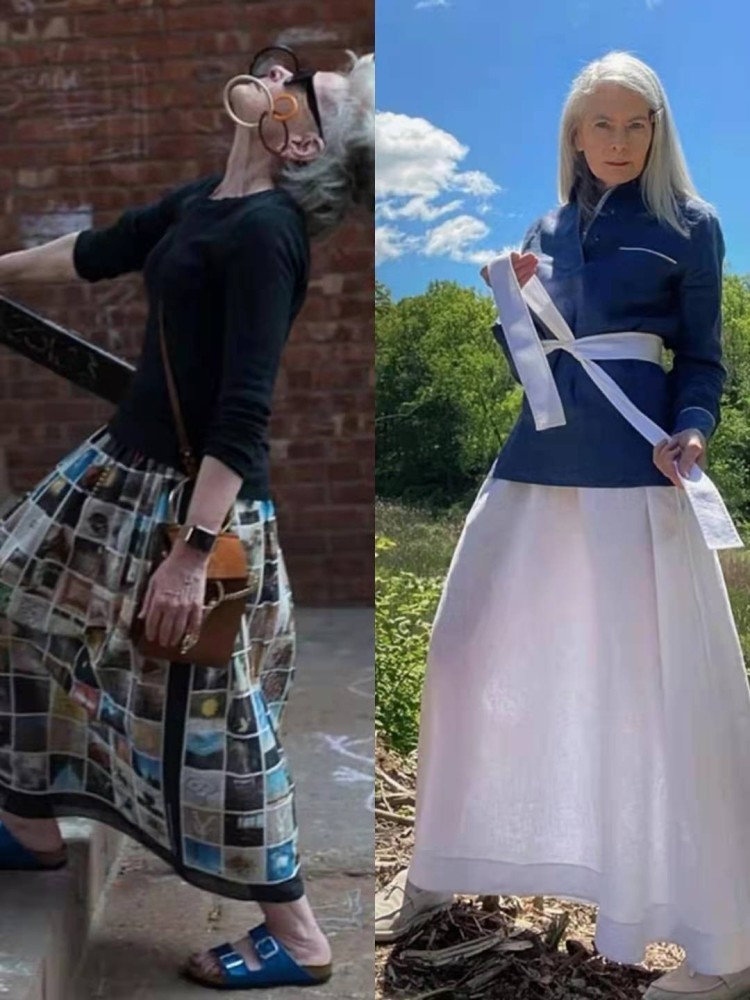 For example, when wearing a thin black knit sweater or other solid-color tops, if you blindly match trousers or shorts, it would be too plain.
At this time, using a printed half-length skirt or a white half-length skirt to replace trousers or shorts, the overall look of fashion is easily doubled, and the combination of traditional and simple is also very interesting.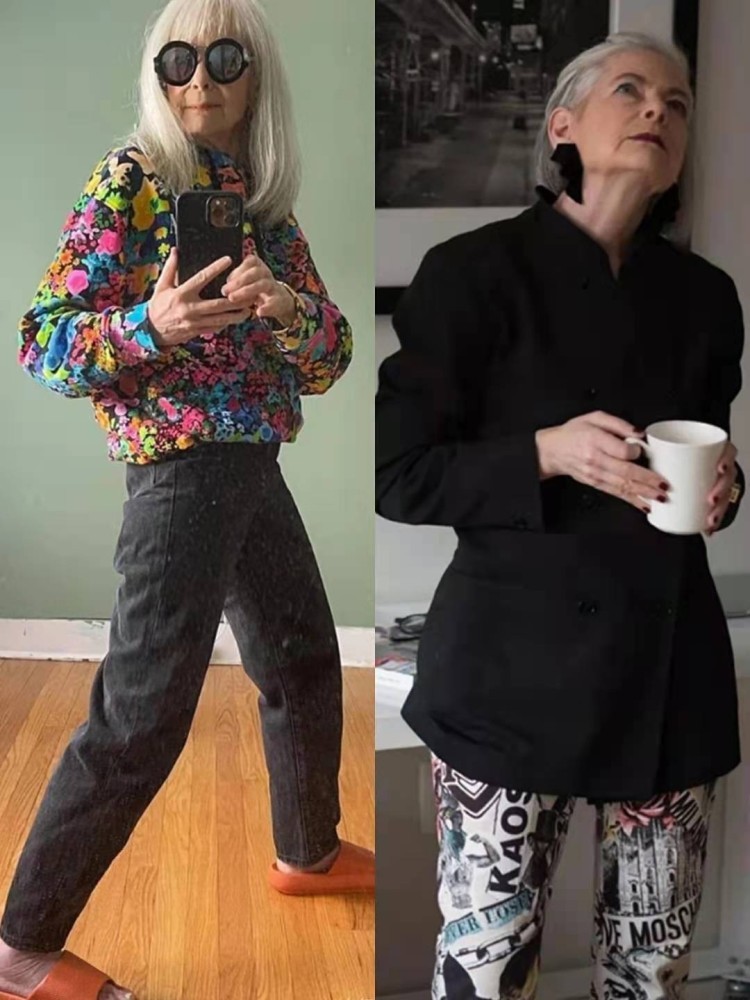 Color-printed shirts, trousers or skirts have always been regarded as items that are easy for the elderly to step on thunder, but as long as you follow the principle of moderation and balance with dark basic models, printed items can also become a stylish tool.
For example, a printed top and dark jeans are used here, even if the center of gravity of the dress is moved up, it is full of bright spots.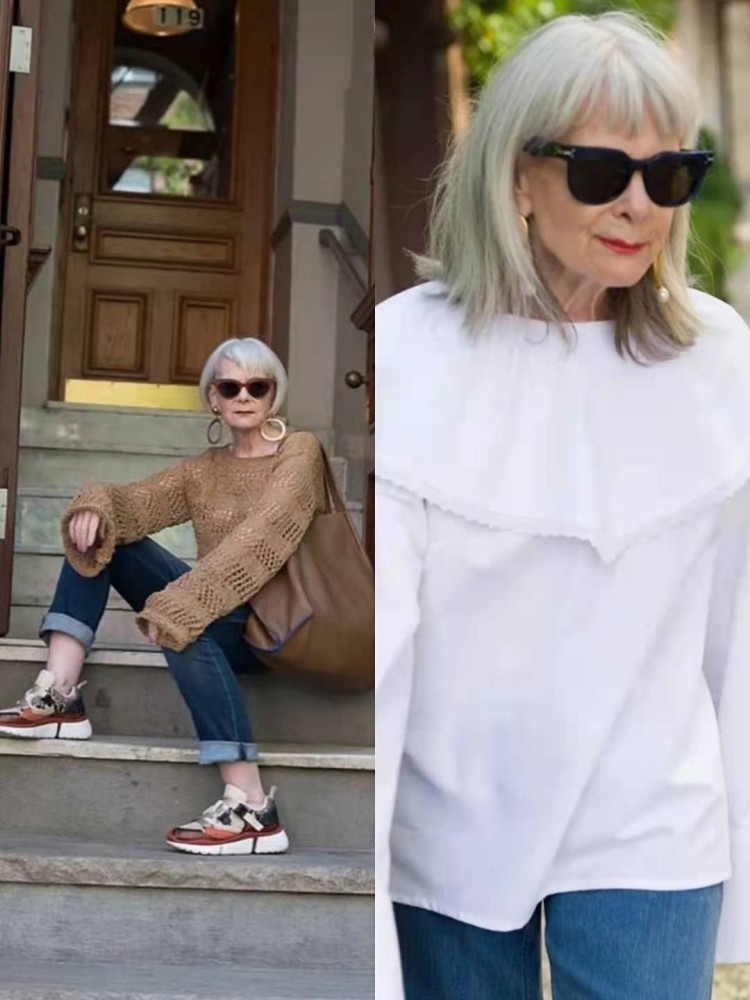 The above is the fashionable grandma's outfits shared for everyone this time. From the above, we can see that fashion has nothing to do with age. Although grandma can't stop the passage of time, they can age gracefully and become a role model for countless people. If you like, you can learn from it. Come on!
View more fashion style for the fashion blogger in https://www.popfashioninfo.com/analysis/trendsetters/